Published August 2, 2019
You Can Bring the GLS to 26 of the Poorest Countries in the World
As I anticipate what God will do through The Global Leadership Summit, I can't help but think about our 1,400 international guests who will be sitting in the main auditorium representing 90 of the 135 countries hosting the GLS this fall. They are some of the most inspiring, courageous people I've ever met in my life. The countries they represent include some of the poorest in our world.
It turns out the bottom line comes down to one thing: Leadership.
Did you know—the GLS is hosted in 26 of the 50 poorest countries?
Have you ever wondered why these nations are so poor and corrupt? According to Global Finance Magazine, dictatorial and corrupt governments can turn what could be a very rich nation into a poor one. It turns out the bottom line comes down to one thing: Leadership.
The men and women coming to the GLS this week know and believe that the poverty, oppression and corruption in their communities can be eradicated if they can raise up Christ-centered servant leaders. And if they can do that, they can shift the paradigm. That's why they host. That's why they volunteer and travel thousands of miles to discover ways to bring the GLS to more people in their countries.
One of these countries is Burundi—the poorest nation in the world
My friend Painito, serving in Burundi, shares what the GLS means to him:
God called me to raise, train and release church leaders. As I look at the church leaders, I think, what can we do to bring transformation to the country? These leaders can be transformed, and they can transform their churches. I thank God for the GLS, because this will transform the country!
It's amazing. The audience at the GLS is like none other Burundi has ever seen. It includes bishops, pastors, business leaders, government leaders, military leaders, teachers and students. The humility of everyone coming to learn together instills hope for the future of the country.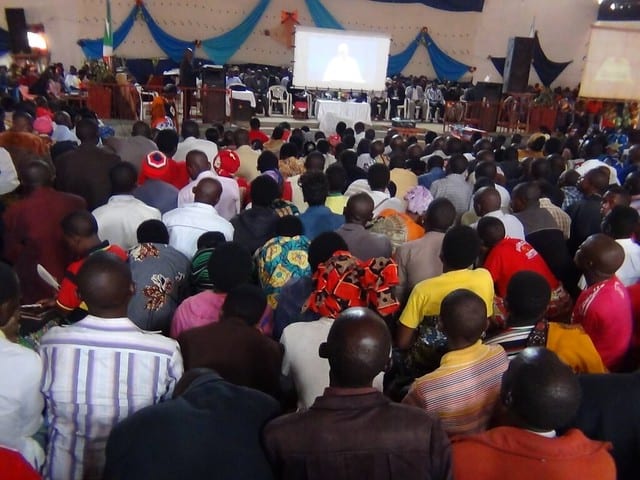 Pray that the GLS would help reach the people. I'm trying to reach people in villages and other centers where the people are too. I'm so grateful that I'm going to get the equipment for the GLS. With this equipment, I'm able to go to other places.
Because of the poverty level, we charge only $7 to register for the GLS, but many are not able to pay that much, so we provide a scholarship for them.  We are able to show them teachings and help them contextualize and apply the teaching. Pray for me, that God will help me, and help the people embrace and apply what they learn through the GLS.
—Painito Ambuka, GLS Burundi
Local GLS committees in countries like Burundi have been able to offer a low registration cost, based on what attendees can afford, and scholarships to those who are not able to pay at all. To continue to serve Painito and others who are looking for ways to transform their communities, we need help.
This is where you come in.
In a couple days we will ask more than 100,000 Summit attendees all across the U.S. to donate to The Global Leadership Development Fund. Why? Because Christ-centered leadership really matters. Especially in a place like Burundi—It is literally a game changer.
What will it take to fund the GLS, including the 26 poorest countries this year? $1,800,000
There is a lot at stake both here and around the world. As you prepare for the Summit, please prayerfully consider a sacrificial Summit gift that will serve those with the greatest need. We are grateful and humbled to announce that two anonymous donors generously offered to match gifts of $100 or more given by this Friday up to $1,000,000! Please join us in support of this transformational cause.
Give today at GiveGLS.org or any time before this Friday at 5 p.m.
I hope to see you at GLS19! If you haven't gotten your tickets yet, or have another friend in mind that you think should attend, visit or share GlobalLeadership.org/Summit today.